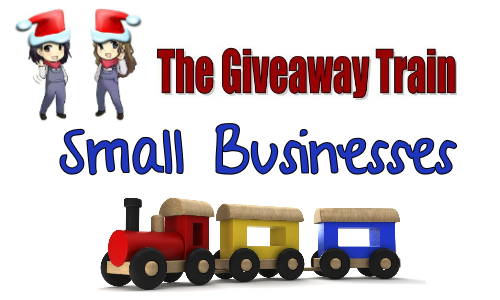 This week's Giveaway Train features a variety of small businesses and they each have a prize to offer! There are some amazing products being offered and one lucky person will win them all! The prizes include some of my favorites like Scentsy and Thirty-One! Check out the list of great prizes below to see what is up for grabs!
About Our Sponsors:
Scent-Sations Mia Bella Products – Independent Distributor
This giveaway includes the Ultimate Mia Bella Flameless Beginners Collection $51.00 (Value):

Scent-Simmer Pot With Bulb
If you are unable to burn candles in your home, office, dorm room or other area, then the Scent-Simmer™ is for you! This flame-free way to enjoy our incredible variety of fragrances uses the heat generated from a 25 watt light bulb to produce scent!
Mia Bella Plug-In
Convenient and easy to use anywhere! While enjoying our wonderfully fragranced Mia Melts, the soft glow emitted from the base makes it a great nite light.
And 1 bag of Mia Bella's Mia Melts
Now you can experience Gourmet Fragrances by Mia Bella's® without the flame! Each package contains 12 Mia Melts. Fragrance that is included will be Angel Wings A unique aroma of cherry vanilla and one of our most popular fragrances now in a Melt!
Izzy B Designs – Custom Clothing for Kids
This giveaway is for a $25 Gift Certificate to Izzy B online!

We take great pride in creating the perfect outfit for your child. Whether it be a special occasion outfit or just one for everyday wear, we create each one to perfection. Choose from any of our styles online, or create your own look.
How are we different from other online boutiques? We offer each client personalized service. If you don't see the exact outfit you want, we will work with you to create the perfect outfit. If you choose an outfit online, we will email you to verify to make sure each part of your outfit is to your specifications.
Scents With Tracy – Independent Scentsy Consultant
This giveaway is for a Scentsy Plugin and 3 Scentsy Bars!

Scentsy began with a simple idea—a safe, wickless alternative to scented candles—and quickly grew into one of the most successful direct selling companies. This wickless concept was born when two stay-at-home moms began selling decorative warmers designed to melt scented wax with the heat of a light bulb instead of a traditional wick and flame.
808 Posh 'n Pink Bow-Tique – Fine, Fun & Fashionable Jewelry, OOAK Hair Pieces and Fashion Forward Accessories
This giveaway is for a $50 Gift Certificate to 808 Posh 'n Pink Bow-Tique

808 Posh N Pink is a totally awesome Mommy & Me… one stop Princess shop !!! Where I handcraft Fine & Fun Jewelry, beautiful and unique OOAK hair pieces, and fashion forward accessories for all styles and occasions !!! I love what I do, and I know you will too.
Thirty-One Gifts With Jessica Stokes – Products to help you stay organized in style! Purses, wallets, totes, bags for travel and much more!
This giveaway is for 1 Tote!
Our stylish, affordable products are exclusive to Thirty-One. From our signature purses and totes to storage solutions that help organize your life, you'll find something to fit every personality and situation. Each season, we develop new products built on the idea that our products must be functional AND fashionable (and, of course, make great gifts!).
Enter here!
To enter, please use the Rafflecopter form below!

The amazing Blogs participating in the train this week are:
Put A Little Umbrella In Your Drink
(If you would like to sponsor our Train, "Hop Aboard!" and contact Amee or Heather at Giveawaytrain@gmail.com for details.)