Over the years our bathtime routine has changed many times. Bathtime with a baby definitely looks different than a bathtime routine for toddlers. Once my kids moved out of the toddler stage, it looked different once again.
But throughout all of the changes, there are a few bath must-haves that have made out routine easier, no matter how old the kids are.
This post is sponsored by Sivan Social. All comments and opinions are my own.
BATHTIME ROUTINE MUST HAVES
No matter how old your child is, developing a bathtime routine is important. Whenever we fell out of our routine, baths always felt like huge challenges to me.
Whether you do baths before bed or after school, find what works best in your day. Once you figure out the timing, consider some of the things I consider to be must haves for kids in the bathroom.
BATH TOYS
When my kids were babies and toddlers, I always had bath toys on my mind. They're great for distracting the little ones while you get the actual bath done.
But don't forget that your older kids who are still taking baths love to play too. I've found that refreshing the bath toys as the kids get older helps keep them more interested in taking a bath.
So let them help choose some toys for the bath and get them involved in the routine.
BODY WASH
My kids love having their own body wash and shampoo in the bath. They have their own little stash of products in one corner of the bath tub.
In our house, you'll often find familiar Baby Magic products. Baby Magic isn't just for babies! It's for the whole family! Baby Magic has been loved by protective parents for over 65 years.
The products are dermatologist recommended for baby's delicate skin. That makes me feel confident in using it with everyone! I also love that it's free of parabens, phthalates, sulfates & dyes. Baby Magic nourishes skin with wholesome ingredients.
Find bath products that your kids love and give them their own bathroom stash to make bathtime feel like a special time for them.
BODY LOTION
I'll admit that one of my favorite parts of our baby bath routine was putting lotion on their little arms and legs. I also put lotion on after I take a shower, so this has become part of our current bathtime routine with the kids.
Baby Magic Gentle Baby Lotionis a quick-absorbing lotion that includes anti-oxidant rich vitamins and hydrating Aloe for healthy, baby-soft skin.
It also pairs well with the Baby Magic Gentle Cleansing Gel we've been using to hydrate and nourish my children's skin even as they grow up!
BABY MAGIC COUPON & GIVEAWAY
You can shop for Baby Magic products on Amazon. There are options for every family!
If you want to add Baby Magic products to your bathtime routine, you can also grab a printable coupon for $1 off any Baby Magic product. Click below to print yours.
Coupon limit 2 prints per user. Coupon expires 12/31/2020.
You can also find an additional $1 off Baby Magic coupon from Valpak so be sure to open your Valpak envelope to see if you received one!
Savings.com is also hosting the #LoveWithBabyMagic giveaway where you have a chance to win a $100 Visa e-gift card from Baby Magic!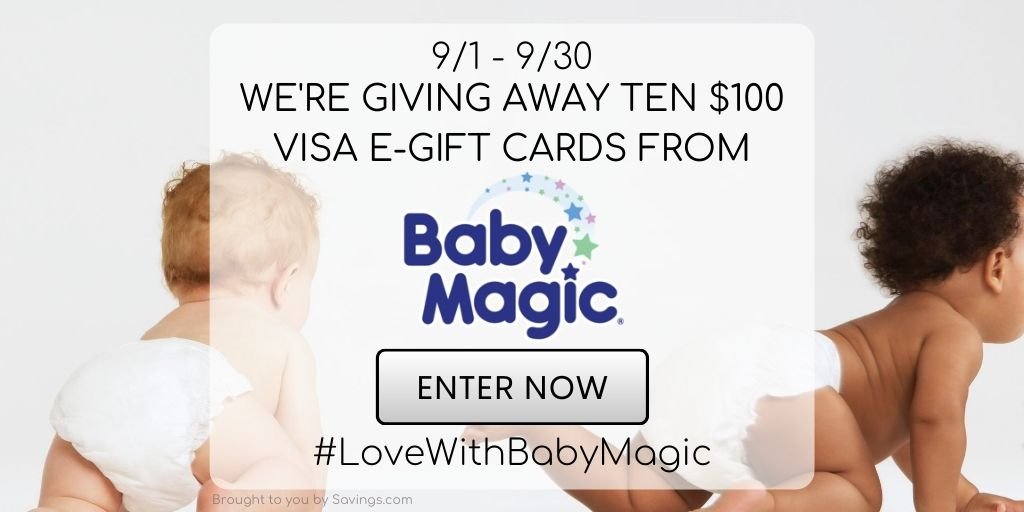 The giveaway ends Wednesday, September 30th at 11:59 PM PT. Ten (10) winners will receive a $100 Visa e-gift card. Enter the giveaway by heading to the Grocery page on Savings.com and submitting their email address on the form on the page. Winners will be chosen through a lottery drawing and notified on Thursday, October 1st via the email address they used to enter. See complete Official Rules for entry instructions, full prize descriptions, restrictions, and other important details.
COZY TOWELS
There's nothing better than wrapping up in a fluffy towel after a warm bath.
For a long time, I opted for the cute towels that matched my kids' bathroom decor. But they always wanted to use my towels when they took a bath. So, I highly recommend buying a few large towels that are super soft to wrap your kids in after they take a bath.
It will turn bath time into a bit of a luxury for them. Who doesn't enjoy that?
I find that even as the kids get older, keeping bath time fun is key to making it happen. With my daughter, adding a bit of luxury is also working. She loves bath bombs, soft towels, and lotion.
Don't be afraid to adjust your bathtime routine so it works for your family!