The holiday prep season is here. Whether it's one of your favorite times of the year or a little bit more on the overwhelming side, there are some easy ways to make all of your holiday preparation easier!
This post is sponsored by Sivan Social. All comments and opinions are my own.
HOLIDAY PREP MADE EASIER
One thing that always helps me during the holiday season is being organized. I won't claim that I always do a great job at it, but this year I want our holiday celebrations to be relaxed so I can enjoy my time with the most important people in my life.
So I have a few quick and easy holiday prep tips to share!
MAKE A LIST
You don't have to be Santa to make a list!
I'm a list maker so whenever I need to get things done or help myself feel more organized, I start by making a list. Actually I usually make a few lists but it helps to get it all out on paper.
Some of the holiday lists you might make include:
Holiday cards
Gift wish lists
Meal menu planning
Meal shopping list (Keeping a running list helps me feel less overwhelmed as I get closer to the day I need to shop for everything)
Those are some basics, but anything that you need to get done that is holiday-related, put it down on paper!
ONE-STOP SHOPPING
Another way to make the holidays easier is to find a place where you can get a ton of your holiday shopping done at once. Sam's Club is a great option for all of your holiday shopping needs!
Sam's Club has holiday decor, gifts, and everything you need to make a delicious holiday meal!
Visit the Sam's Club Holiday hub to learn all about everything Sam's Club has to offer during the holiday season. From sales and deals to club hours and delivery cutoff dates, it has everything you need to know!
You can get everything you need from your lists and save while doing it!
Sam's Club members can access $4700 in Instant Savings with the Instant Savings Book. You'll find savings in everything from season decor and home to tech and beauty! There are savings for everyone!
CLICK HERE to explore the Instant Savings Book!
I've got my eye on a few things already.
You can get $30 off with Instant Savings on the PowerXL Vortex 7-Quart Air Fryer!
I know I'd love an air fryer upgrade for the holidays!
Starbucks Holiday Blend K-Cups are perfect during the holiday season!
It's easy to stock up on them at Sam's Club.
The Swift Home Plush Faux Fur 3-piece Reversible Sherpa Comforter Set is a great gift idea! You can get $10 off with Instant Savings too!
It comes in a variety of colors and is oh so cozy!
Those are just a few of the things I've got my eye on right now!
CLICK HERE to explore the Instant Savings Book and find some ideas you love!
(If you're not a Sam's Club member, click here to join for $45 to take advantage of the Instant Savings and get free items. Your free items will include:
Rotisserie Chicken
Take & Bake Pizza
8 count cupcakes
Sam's Club also offers options to help you shop safely with Sam's Club Scan & Go and Curbside Pickup. Visit Sam's Club Covid response page for more information on safety precautions being taken in-store and with curbside pickup.
KEEP IT SIMPLE
One thing I've learned over the past few years is that my kids don't really need every little thing I used to try to put together in the name of the holidays. Most of that just caused me extra stress. So I've tried to simplify things a bit.
I love holiday traditions but trying to build too many of them made everything feel like a lot of work. So the past few years I've been doing some tweaking.
One example is our trees. We love having more than one Christmas tree but getting all of the ornaments out and putting them all away always takes a lot of time. I have worked to replace our breakable ornaments with shatter-resistant and non-breakable ones. Now the kids can help decorate and the clean up is so much quicker without having to wrap each individual ornament.
So thinking of ways to simplify your holiday traditions goes a long way in making the prep easier.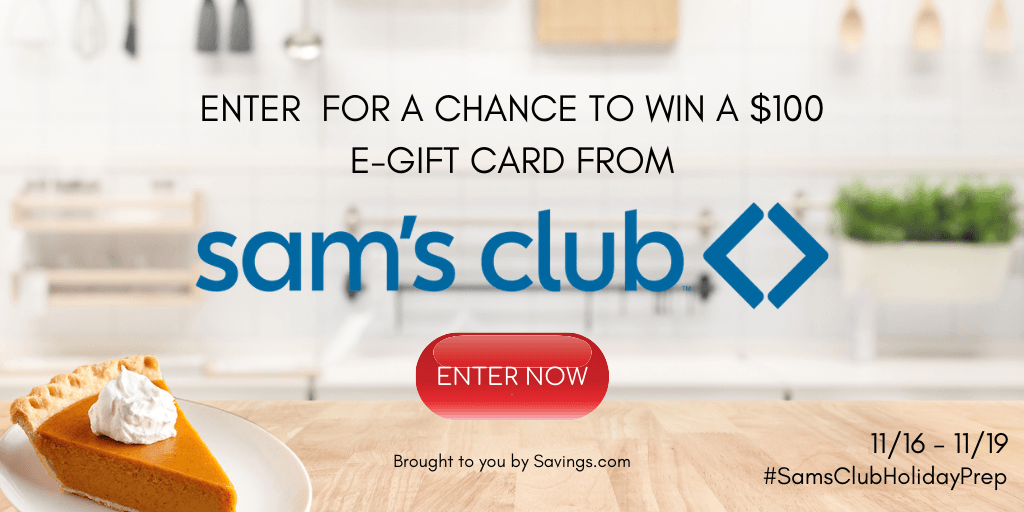 Enter Savings.com's #SamsClubHolidayPrep Giveaway
Savings.com is giving away $1000 in e-gift cards from Sam's Club!
The giveaway ends on Thursday, November 19th at 11:59 PM PT. Ten (10) winners will receive a $100 e-gift card from Sam's Club. The winners will be chosen through a lottery drawing and notified on Friday, November 20th (11/20) via the email address they used to enter. See complete Official Rules for entry instructions, full prize descriptions, restrictions, and other important details.