This is a sponsored post written by me on behalf of Snack Pack for IZEA. All opinions are 100% mine.
A few weeks ago I found a new preschool for W. The one he started at in the fall just wasn't a good fit for him so he hasn't been in school for a few months. But he started back at the beginning of the month which means I'm on lunch duty twice a week again! It's a challenge for me and my picky eater. But I've learned one trick that makes it all a bit more fun — printable lunchbox notes!
Printable Lunchbox Notes Make Lunch Fun
Luckily for me, they encourage the kids to eat the healthier items in their lunch before they get to have their treats. So even if he's not eating much, I know W is at least trying a bit of things before diving into one of his favorite lunchbox treats.
He gets to choose one treat for his lunch. Sometimes it's a cookie or a piece of candy. But a lot of times he reaches for Snack Pack® so I have to be sure to keep the pantry stocked!
I like having Snack Pack® products around as an option for him because they are made with real nonfat milk and are fortified with as much calcium as an 8-ounce cup of milk!
They don't contain any preservatives or high fructose corn syrup and are easy to grab in the baking aisle at all of my local stores!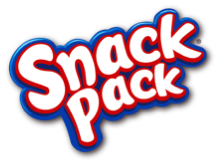 Oh and Snack Pack® products are great for his lunch because they have redesigned the lid to make it easier to open! Perfect for hands of all ages! As a former teacher, I cannot even tell you how many lids I've opened in my time!
Watching W be able to peel back the lid and enjoy his Snack Pack pudding all on his own is great. I even tried an old lid compared to a new redesigned lid and loved how easy it was to open!
We're working on teaching him how to pay his own lunch and Snack Pack pudding cups definitely make lunch time a bit more fun! Now I just need to convince him that you only put in one Snack Pack pudding a day! I'm pretty sure he would fill his lunch box with them if I let him!
So how do I make his school lunches even more fun? I add a special little note! Sometimes I write him a message on his napkin but lately I've been putting a printable lunchbox notes on his Snack Pack® pudding cup!
It's a super easy way to make lunch just a bit more special!
How to Use Your Printable Lunchbox Notes
These are so easy to throw together too! You can print the entire sheet and cut them all out so you're prepared for lunch for six days!
What you need:
Snack Pack® pudding cups
Printable Lunchbox Notes printed on cardstock (they are more durable that way!)
2″ round punch or scissors
Double stick tape
What you do:
Print as many copies of the Printable Lunchbox Notes as you need (there are six labels per page, one per design)
Cut out with scissors or punch out with 2″ round punch.
Attach to top of cup with a piece of double stick tape.
And it's that easy to add a little something special to your child's lunch. These labels also fit on top of fruit cups, applesauce cups, and yogurt!
What's your favorite Snack Pack flavor?