This is a sponsored post written by me on behalf of Wendy's. All opinions are 100% mine.
I had a loving and supportive family when I was growing up.  And the fall holiday season was always a time I looked forward to with my family. It meant getting together with lots of good memory-making. But there are many children who don't have these expectations… they are foster children.  So how can we support them during this time of year? It's easy to offer support with Wendy's® and the Dave Thomas Foundation for Adoption during Wendy's Halloween Celebration.
Wendy's Halloween Celebration
Did you know that Wendy's® founder, Dave Thomas, was adopted as a child?  So Dave's foundation causes, such as Wendy's Wonderful Kids, are very important to him.  He created his foundation in 1992 and it was formed to assist in finding permanent and loving homes for more than 130,000 children in North America's foster care system.
Wendy's supports the foundation generously through collaboration and fundraising efforts.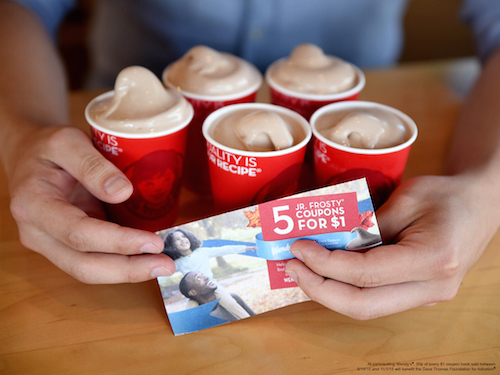 This fall (September 14 through November 1) you can join in this partnership by buying Halloween Coupon Books at all Wendy's restaurants.
For only $1, you get 5 or 10 free Jr. Frosty® treats.*  What a great idea for treats to give to this year's flock of Trick-or-Treaters!
Funds from the sale of the coupon books goes to the Dave Thomas Foundation for Adoption®.**  These funds provide grants to public and private adoption agencies to hire professionals who institute programs to get the longest-waiting foster children into adoptive families.
Check out Wendy's adoption page to see foster kids who have found their forever homes talk about their new families and how it has changed their lives.  Imagine their joy at having someone to call "Mom" and "Dad". As of January 2015, Wendy's has completed over 4,500 adoptions! We can help make a difference this Halloween!
* Number of coupons per book vary based on location
** $0.85 cents of every dollar from the Halloween Coupon Books will go to support the Dave Thomas Foundation for Adoption.